Investor Relations Home
About Ryman Hospitality Properties, Inc.
Ryman Hospitality Properties, Inc. (NYSE: RHP) is a REIT for federal income tax purposes, specializing in group-oriented, destination hotel assets in urban and resort markets. The Company's owned assets include a network of four upscale, meetings-focused resorts totaling 7,805 rooms that are managed by lodging operator Marriott International, Inc. under the Gaylord Hotels brand.
Press Releases
March 21, 2018
Blake Shelton and Ryman Hospitality Properties, Inc. Bring Ole Red to Gatlinburg, Tenn.
February 23, 2018
Ryman Hospitality Properties, Inc. Reports Fourth Quarter and Full Year 2017 Results
February 13, 2018
Ryman Hospitality Properties, Inc. to Present at the Raymond James & Associates' 2018 Institutional Investors Conference – Wednesday, March 7, 2018, at 8:40 a.m. ET
Shareholder Information
Exchange: NYSE | Ticker: RHP
Independent Registered Public Accounting
Firm: Ernst & Young LLP
Transfer Agent: Computershare
Computershare Contact Info
By Regular Mail
P.O. Box 43078 Providence, RI 02940-3078
UNITED STATES
By Overnight Delivery
250 Royall Street Canton, MA 02021
UNITED STATES
Telephone
Toll Free 800 568 3476
Toll +1 (781) 575 3120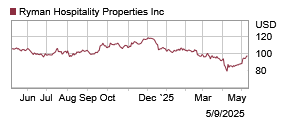 Copyright Nasdaq. Minimum 15 minutes delayed.
Events and Webcasts
Mar 6, 2018 at 7:30 AM EST

Feb 23, 2018 at 11:00 AM EST
Receive E-mail Alerts
Sign up to receive e-mail alerts whenever Ryman Hospitality Properties Inc posts new information to the site. Just enter your e-mail address and click Submit.